About
History comes alive in Cabbagetown, a Victorian enclave that developed in Toronto from the mid 19th century. It is one of the largest areas of continuous, preserved Victorian housing in North America. But Cabbagetown is not only an area where you'll find a large number of beautiful heritage houses. Many fascinating and remarkable people called it home, and many of them were recent immigrants to Toronto and Canada.
With a continuing legacy since its beginnings in the 1830s as an immigrant reception area comprised of many ethnic minorities, Cabbagetown has been home to an amazing and diverse group of personalities. As we see from the stories documented here, the people of Cabbagetown possessed a remarkable ability to endure, to relish and to contribute to life. They are people who, despite the odds, have realized their remarkable potential. Many of them have been active in the arts and sciences, in politics, business, architecture and social movements. Through their contributions, these people have left a distinct imprint, not only on this community, but on the City, the Province, across Canada and abroad as well.
The Cabbagetown People Program evolved out of an idea to salute not the bricks and mortar, but those very men and women, all of whom provide a cultural and heritage link to Canada's colourful past. Their stories, their achievements and their legacies are the threads of a community proud of its unique identity and heritage, and help to make up the historical fabric of the Nation.
Our program has honoured several remarkable lives from Cabbagetown's past by installing commemorative plaques at residential and other strategic places throughout the neighbourhood and also recognizes other outstanding pioneers in various fields, whose stories are told on our website (See "Biographies" above), in our publications, and on our guided walking tours.
What makes Cabbagetown People a truly unique heritage program is that it honours a broad range of individuals (no longer living) who have made contributions. It salutes not only famous (or infamous) persons, historical figures, or people who have distinguished themselves in their occupations or careers. It also honours the average person who has contributed to his community, left a lasting legacy, whether in a tangible way or "in leading by example", serving as a role model, and inspiring those who follow. The program underscores the ability of any individual to be a "hero", of ordinary persons to do extraordinary things regardless of how humble their circumstances. These "heroes" stand side-by-side the famous and the legendary.
The Cabbagetown People Program aims to pursue and disseminate such questions as to which prevailing local conditions and circumstances enabled this community to become established and to thrive. Accordingly, the social history of Cabbagetown can provide us with many valuable lessons about the evolution, function and success of the Canadian inner city. We research the day-to-day existence of these outstanding people, and lead educational tours of the community for schools and other groups.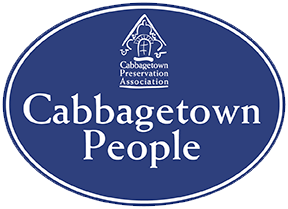 Cabbagetown People with its focus on the stories of people provides a very nice balance to the built heritage of the neighbourhood. Our aim is to "humanize the past", engage both children and adults in their local history, and ensure that, through this program, we continue to preserve the social history of this Canadian inner city neighbourhood for future generations.
Winner of the 2013 Heritage Toronto Community Heritage Award for Toronto and East York Community Council area and Winner of the 2013 Heritage Toronto Members' Choice Award.
IMPORTANT NOTE ABOUT PICTURES
The Cabbagetown Preservation Association (CPA) is a volunteer-based and not-for-profit organization. Out of respect for the original resources of images shown on this site, and which we use in our educational programs, we have done our best to try to locate and credit them. If there are any queries or concerns, please contact the CPA immediately (see Contacts).
(Note that the order of the pictures on the home page of this site will change every time you log in.)