Albert (Frenchy) Bélanger 1906 - 1969
1927 Flyweight Boxing Champion of the World
Plaque located at: 2 Lancaster Avenue, Toronto, ON, Canada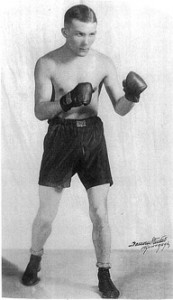 Albert (Frenchy) Bélanger, the son of Adolphe and Louise Bélanger was born in Toronto. He was the second eldest of seven children. All the children in the family had nicknames and Albert's was "Bear." The family originally lived on Sackville Street.
Being one of the toughest boys to come out of Cabbagetown, he was simply known as "The Champ." Because of his professional boxing skills he became a sports icon in the Roaring 20s. On December 19, 1927, at the young age of 21, he won the National Boxing Association's World Flyweight title at Toronto's CNE Coliseum, beating England's Ernie Jarvis. Albert won the title by a decision and he became the toast of Hogtown. The day after the fight, newspapers described it as an epic battle. The match drew 9,500 people, including many politicians and businessmen. Frenchy retired in 1930 after 61 bouts, which include 13 knockouts, 24 decisions, seven draws, and 17 losses. He also won the Canadian title and defended it several times.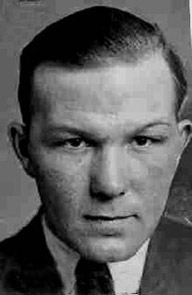 In the same year he married Ivy Bertha Bracewell, and they had two children. They lived on Winchester Street, and at the same time Frenchy worked as a waiter/bouncer at the Winchester Hotel on Parliament Street.
Frenchy was known as a kind, funny and loving father. He was a "real gentleman," and a role model for the many children with whom he came in contact. He started a boxing club at a church and it was discovered only by accident that he was a world champion boxer. Such was his humility. On any night of the week, Frenchy could draw 10,000 fans into the coliseum to watch him fight. He fought at a time that boxing historians refer to as the "Golden Age of Flyweights."
Hear him talk: