Ben Wicks 1926 - 2000
Political Cartoonist, Global Literacy Advocate, Humanitarian
Plaque located at: 424 Parliament Street, Toronto, ON, Canada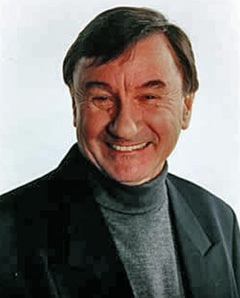 Ben Wicks was an acclaimed cartoonist with an incredible sense of humour. He was born in London, England in 1926, the son of a poor, working class Cockney family. During wartime the family evacuated to the country. When Ben was 14 years of age they returned to the city and at that time he left school, and he got his first job as a shipping clerk. "I was bloody hopeless at school," he recalled. "Left at 14 and they were pleased to see me go as I was."
He took evening classes at an art school. "They told me I should take up something else, so I quit. "They were right, I still can't draw," he said, years after becoming a highly successful cartoonist.
He did learn to play the saxophone in the British Army and toured Europe with a band.
In 1957 with just twenty five dollars in his pocket, he and his wife Doreen emigrated to Canada. While in Calgary, he worked as a milkman and then joined the Canadian Army as a musician. It was at this time that he began studying cartooning for books. His first major success was being published by the Saturday Evening Post.
In 1963, he visited Toronto and met feature cartoonist Norman Drew who advised him to move to Toronto. Before long he began work at the Toronto Telegram and his cartoon "The Outcasts" was soon syndicated in over 50 newspapers. In 1971 when the Telegram was no longer in operation, his cartoons were picked up by the Toronto Star. Now called "Wicks," it was carried by 84 Canadian and more than 100 American newspapers.
"Ben Wicks' cartoons provide important insights on 20th century events and Canadian culture. His work features keen insights into the human condition and a sense of humour that add depth and texture to our understanding of historical events, particularly during the Trudeau era. The cartoons will be particularly useful for research into Canadian studies, political science and communications, says Michael Moir, University archivist and Head of the Clara Thomas Archives & Special Collections."I had admired the single-panel Ben Wicks cartoons for years", his friend and standup comic Dave Broadfoot said. "Those cartoons worked like what is called a "blackout' on stage – a comic idea that lasts 30 seconds with one strong, self-explanatory punch line. Not easy to do. That's what Ben's cartoons were: funny, political and brief."
In 1980, he opened a restaurant on Parliament Street in Cabbagetown called The Ben Wicks. He sold it just three years later, after losing his shirt. He was apparently a clever creative man but a very poor administrator. The restaurant kept his name for a while, then became The Local Gest. It is now called The Tilted Dog.
Ben Wicks was also a TV personality and on his own show, The World of Wicks, he interviewed personalities such as Michael Caine, Ingrid Bergman and Sir Edmund Hilary.
He also wrote and illustrated books, and established the I.Can Foundation, which provided education and literacy programs, such as Born to Read, for children.
Hear him talk: