Betty Oliphant 1918 - 2004
World-Renowned Innovator of Ballet Education
Plaque located at: 137 Amelia Street, Toronto, ON, Canada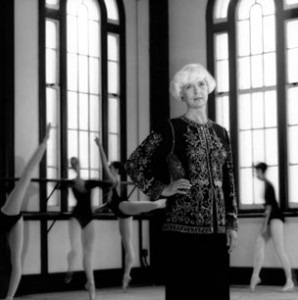 Betty Oliphant was born into a prominent family in London, England. Sadly for her, she never knew her father, who died shortly after she was born. She had a passion for dance and fought her middle-class British family for ballet lessons.
In the late nineteen twenties and thirties she studied ballet along with stage, tap and ballroom dancing. When she was thirteen years old, she was teaching and dancing professionally, and at seventeen years of age she opened her own school above the Twinings Tea Emporium in London, England. At the age of twenty, she found that she was far too tall for classic dance.
During the Second World War she worked as an ambulance driver, as a choreographer of pantomimes, and also for a British Army touring group, "The Blue Pencils".
When the war was over, Betty came to Canada as a war bride with her Canadian husband (a soldier) and her two children. She then opened a school on Sherbourne Street, and helped found the Canadian Dance Teachers Association.
Betty Oliphant was the ballet mistress for eight years and later the Associate Artistic Director of the National Ballet of Canada, established by Celia Franca. She was a fabulous teacher but had a reputation as being a very difficult task master. Central to her approach as a ballet teacher was the importance of mastering technique, with the sole purpose of achieving freedom of expression.
In 1959 "Miss O," as she was called, co-founded the National Ballet School with Celia Franca. It was successful beyond their expectations, providing the best dance training and academic schooling combined. Among Miss Oliphant's early students were, Robert Desrosiers, Karen Kain, James Kudelka, Veronica Tennant, Rex Harrington, and John Aleyne, a choreographer.
Betty Oliphant's legacy is huge. All her work has been an uncompromising quest for excellence and insistence upon the highest standards. She put Canadian Ballet training on the world map and broadened its definition to include the education of the whole person.
Awards and Honours
1967 Centennial Medal, Canada
1973 Officer of the Order of Canada
1978 Honorary Doctor of Law, Brock University
1978 Honorary Doctor of Law, Queen's University
1978 Molson Prize
1980 Honorary Doctor of Law, University of Toronto
1981 National Dance Award from the Canadian Dance Teachers Association
1982 Diplome d'honneur, Canadian Conference of the Arts
1985 Companion of the Order of Canada
1985 Distinguished Educator of the Ontario Institute for Studies in Education
1990 Order of Napoleon by the Maison Courvoisier, France. One of the first two female recipients, and only the third Canadian.
1990 Toronto Arts Foundation Lifetime Achievement Award
1992 Paul Harris Fellow of the Rotary Foundation of Rotary International
1992 Commemorative Medal for the 125th anniversary of Canadian Confederation
1992 Honorary Doctorate of Letters, York University
The National Ballet School's theatre is called the Betty Oliphant Theatre.
Hear her talk: