Bill Stapleton 1916 - 2008
Artist, Activist, Teacher
Plaque located at: 424 Sumach Street, Toronto, ON, Canada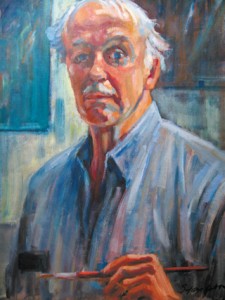 "He moved to Cabbagetown to join the human race."
Most of us who have ever walked or driven up Sumach Street, and glanced into that second floor window, maybe glimpsing an easel or part of some "work in progress," would never know the passion and conviction of that man who moved to Cabbagetown to join the human race. Why Cabbagetown? Probably because of its then (and now) unique and diverse environment.
That man was Bill Stapleton, artist, social activist, humanist, free thinker, teacher, decorated citizen, and, for a time, a member of the Communist Party.
Some compared his work with the likes of Degas and Toulouse-Lautrec. In their tradition, Bill would hang out at the Winchester Hotel, the long-gone Paramount Tavern and Trojan Coffee House, and sketch the colourful and sometimes rowdy clientele – working-class people having a good time. One might categorize his work as "slice of life" art.
Carol Moore-Ede, Stapleton's friend and curator said of his technique, "[his style] had a relaxed structure but his lines were direct and bold, drawn with rock steady hand and a sharp eye. He painted in startlingly vibrant colours and bold strokes, as forthright in his technique as he was in his social convictions."
Over the years, driven by his artistic and social justice convictions, he travelled to the Soviet Union, Nicaragua, Mexico and Spain to document the human condition.
He was associated with ArtHeart, the community-based initiative to assist and promote art and young artists, and a member of "Veterans Against Nuclear Arms." In an effort to mobilize artists for world disarmament, he joined the movement "Arts for Peace," where he worked alongside Margaret Lawrence, Pierre Berton, Norman Jewison, Margaret Atwood, and Karen Kain.
Collections of Mr. Stapleton's work are in the National Archives of Canada, and in the Canadian War Museum. In 2006, he donated 1,500 canvases and sketches to the Cabbagetown Regent Park Community Museum in Toronto.
In 2007, at the golden age of 91, Mr. Stapleton was presented with the Ontario Federation of Labour's "Lifetime Cultural Achievement" award for his artistic documentation of labour struggles both in Canada and around the world.
"Look, you have to have anger, passion, indignation, love, tenderness – the whole gamut of human emotion –
if you're going to be a real artist."
So said Bill Stapleton, the man who moved to Cabbagetown to join the human race.