Carol Anne Letheren 1942 - 2001
Canadian Olympian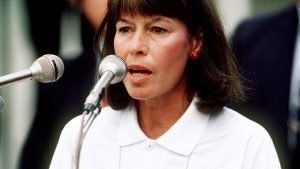 Carol Anne Letheren (née Wood) was born in Owen Sound, Ontario. As a child she lived in Guelph and graduated from Guelph Collegiate. She continued her studies at the University of Toronto and graduated with a bachelor's degree in Physical Education and a Master of Business Administration from York University.
From a young age she was involved in sports both as a player and a coach. She began her sports career in 1963 as an archery coach for the University of Toronto. She taught at York University from 1970-1977. Throughout her career she served on several volunteer boards in education, culture and sports.
Carol Anne first rose to national prominence as Canada's first female Chef de Mission at the 1988 Seoul Olympics and was praised for her handling of the Ben Johnson steroid scandal. She is the official who had the difficult job of taking away Johnson's medal.
She became director of the Canadian Olympic Association (COA) in 1981 and was promoted to chief executive officer in 1994. She was also a member of the International Olympic Committee (IOC). She helped spearhead the unsuccessful Toronto bid for the 2008 summer Olympic games and was director of the bid committee.
An IOC representative said, "She was outgoing and gregarious, but she had a very clear view about what was right with the Olympic movement and was very stubborn about making sure the right things happened."
Bill Warren, a past COA president said, "No one personified the Canadian Olympic values of Excellence, Respect, Fairness, Teamwork, Fun and Leadership better than Carol Anne. And no one worked harder to promote amateur high-performance sport and ethics in sport." Mr. Warren also credited Ms. Letheren for increasing the role and level of participation of women in sport, not only as athletes, but as coaches and administrators.
Carol Anne Letheren died of a sudden massive brain aneurysm, collapsing during a speech to alumni members of the Schulich School of Business at York University in February 2001. She was 58. Her ashes were scattered in a rose garden.
She once lived on Amelia Street in Cabbagetown.
Awards
Canadian Olympic Order
Guelph Sports Hall of Fame
Canadian Olympic Hall of Fame
Carol Anne Letheren Leadership and Sport Scholarship