Don Vale House 1849 - 1876
A Rough Entertainment Venue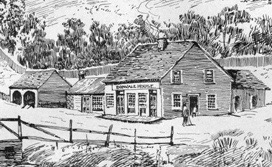 Don Vale House stood from the late 1840s to around 1876 at the edge of the Don Valley on the north side of Winchester Street (known as the plank road in the 1850s). It was erected as a house but quickly turned into a public house.
The building was rowdy place: a sporting tavern with drinking, boxing contests, crude fighting, cockfights, and gambling. It was a place where men went in the evening after their work (often Riverdale farmers returning home after spending the day at the St. Lawrence Market).
Winchester Street, prior to the opening of the Bloor Viaduct in October 1918, was a prominent route into Toronto, with Royal Drive on the east side of the Don River, and it ran up to Broadview and the tollgate at the Danforth.
A drawing of the property during his time shows a building of wood with a barn for horses and a shed to the rear. The drawing also shows a bridge in front with a boat tied up at the bank. The name was changed in 1865 to the Fox Head Tavern. By the 1870s, the building was left empty. By 1876 it was torn down.
Source: Toronto Historical Association
The illustration appeared in John Ross Robertson's Landmarks of Toronto. Toronto Public Library.