Dora de Pédery-Hunt 1913 - 2008
Hungarian-Canadian Sculptor and Medallist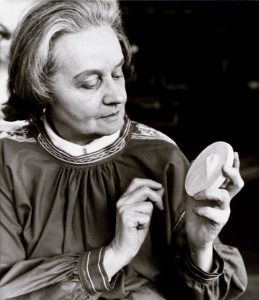 Dora de Pédery-Hunt was born in Budapest, Hungary. She and her two sisters were encouraged by their father, a scientist and talented pianist, and mother to embrace their interests and talents. She completed her studies in Budapest at the Royal Academy of Applied Arts in 1943, and received a Masters Diploma in Sculpture. After German forces occupied Hungary in 1944, the family moved to Germany. In 1948, she was sponsored and immigrated to Canada. Her family followed later. The first years were financially difficult for Dora and she had no time to pursue her art. She worked as a housekeeper.
In time, Dora was introduced to sculptors Frances Loring and Florence Wyle (often called the First Women of Canadian sculpture). In realizing her talent, they helped Dora acquire a job teaching sculpture.
Her first solo show of medals and small sculptures in Toronto established her reputation as a sensitive representational artist, endowed with superb technical skills. She worked in a variety of mediums including medals, coins, graphics, illustrations and Christmas cards. In the early 1950's she began receiving commissions from a variety of corporate and private clients. She began developing and patenting her work under the name of "Dora Studios."
She participated at the Canadian National Exhibition where she showed one of her cast medallions. She was noticed by National Gallery Director, Alan Jarvis. With his support she received a Canada Council Grant, which enabled her to study in Europe for six months. On returning, she received more commissions. For over twenty years she was instrumental in advancing the ancient art of medal making in Canada. She specialized in designing Canadian coins, medals, awards and sculptures.
Dora taught at the Ontario College of Arts and Design (OCAD) Sculpture department from 1957-1960. She was made an OCAD Honorary Fellow in 1982. She supported OCAD students through an award in her name.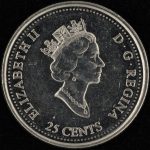 Dora de Pedery-Hunt was best known for moulding the image of the Queen on Canadian coins and creating the 1967 Canadian Centennial Medal. In 1968, Dora created the 300th Anniversary Hudson's Bay company medallion and the 1976 Olympic gold coin.
Her work is housed in both public and private collections including the National Gallery of Canada, the British Museum and the Smithsonian Institution.
Awards
Order of Canada
Honorary Doctor of Letters, York University
Canadian Centennial Medal, 2002