Eden Smith 1858 - 1949
Prolific Early Toronto Designer and Architect
Plaque located at: 34 Salisbury Avenue, Toronto, ON, Canada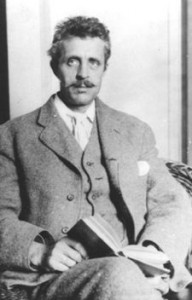 Eden Smith was born in Birmingham, England. He was one of the youngest of a large Victorian family.
He studied drawing and architecture throughout Europe. He and his wife Annie moved to Toronto in 1888 and he began his architectural practice in 1892. In 1890 they lived at 34 Salisbury Avenue.
Much of his early work in Toronto was ecclesiastical and sponsored by the Anglican Church. He designed several churches, among them the church of St. Cyprian in Seaton village, St. John the Evangelist on Portland Street and the church of St. Thomas on Huron Street.
After 1888, domestic architecture monopolized his prolific output. He designed 11 houses in Wychwood Park and others in Rosedale, The Annex and Forest Hill, many of which embodied the contemporary design principles found in the Arts and Crafts Movement, of which Smith was a leading exponent. His style was called English Cottage, which had steep-pitched roofs, tall chimneys, and bands of small-paned casement windows.
In his 33 years of practice he designed over 2,500 houses in the city. He was also on-site and supervised the construction.
Another outstanding achievement was the design of the co-op housing complex at the corner of Spruce and Sumach Streets in Cabbagetown. It was begun in 1913 and flourishes to this day as a model of successful co-operative housing.
Mr. Smith was also one of the founding members of the Arts and Letters Club.
Eden Smith died on October 10, 1949, and is buried in Woodlawn Cemetery in Guelph, Ontario.
Hear him talk: