Sir Ernest MacMillan 1893 - 1973
Composer, Conductor, Organist
Plaque located at: 152 Winchester Street, Toronto, ON, Canada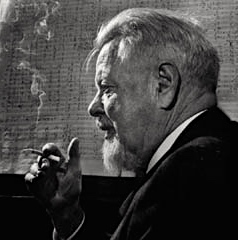 Born in Mimico, Ontario, of musical parents, Ernest was recognized as a child prodigy. He played the piano from age two and the pipe organ at his father's church, St. Enoch's on Winchester Street, from age seven. He performed at Massey Hall when he was only eleven years old. A year later he was sent to Scotland to study with the best organist in the world and at age sixteen he graduated from Oxford University. At seventeen he received a Bachelor of Music, and also became a prize-winning Fellow of the Royal College of Organists – the youngest ever.
In 1914, he went to Germany to continue his musical studies but with the outbreak of World War I he was imprisoned and spent four years in Ruhleben prison camp. He continued to study music in prison, and at twenty-five (and still a prisoner) he became an Oxford Doctor of Music. He was released in 1918 and returned to Canada. A year later he married Elsie and over the next 10 years had four boys, two of whom died at birth.
From 1918 until 1926 he was organist of the new Timothy Eaton Memorial Church in Toronto. In 1926 he became head of the new Toronto Conservatory of Music, and in the following year, Dean of Music at the University of Toronto.
He devoted his life to the musical well–being of his country, and spent from 1931 – 1956 as conductor of the Toronto Symphony Orchestra. He was an accomplished composer, a brilliant organist and an Olympian educator. On September 26, 1935, he was conferred a knighthood in recognition of his musical accomplishments.
On May 3, 1956, the elegant Sir Ernest conducted his beloved Toronto Symphony for the last time as its musical director. It was an emotional end to a great career. The orchestra played their hearts out for him.
Hear him talk: