Flos Jewell Williams 1893 - 1970
A Writer with a Passion for Western Canada
Plaque located at: 5 Rose Avenue, Toronto, ON, Canada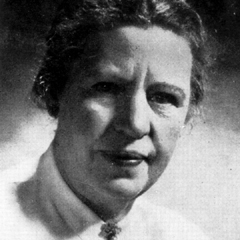 Flos Jewell Williams was born in Toronto in 1893 and attended Jarvis Collegiate and Toronto Normal School. She began teaching in Bobcaygeon in the Kawartha Lakes District, which established the setting for her first novel. After teaching for many years in Toronto, she married and moved to Calgary. As she was separated from her friends and family, she began to write. She submitted, The Judgement of Solomon, to the Hodder & Stoughton Canadian contest and won a prize of $2,500. This came as a big surprise, as she had not previously written.
While living in Calgary, she raised her twin sons and contributed poetry, short stories and articles to Canadian periodicals, to qualify for membership in the Canadian Women's Press Club.
In 1949 she won second prize in the Ryerson book contest for Fold Home, set in the Cariboo district of British Columbia.
Her novels dramatized the experiences of immigrants building a new life in the harsh Canadian rural environment.
Flos Jewell Williams was one of the best known women writers of Western Canada.