Fredelle Bruser Maynard 1922 - 1989
Author and TV Host
Plaque located at: 25 Metcalfe Street, Toronto, ON, Canada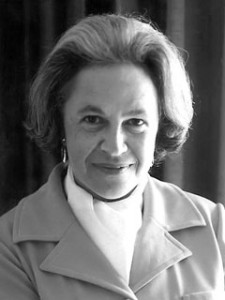 Fredelle Bruser Maynard was born and raised in Saskatchewan and Manitoba. Foam Lake was the first of many towns in which she lived, as her family often moved. Her father was a Russian painter, turned country merchant, who opened one store after another in many small towns.
Fredelle studied at the University of Manitoba and the University of Toronto before earning her Ph.D at Radcliffe. She went on to become a brilliant academic, a popular teacher, who taught at Wellesley and Radcliffe, and an acclaimed writer.
She is known for her memoirs and books on child care. They include: Guiding Your Child to a More Creative Life, The Child Care Crisis, and her memoirs: Raisins and Almonds, and The Tree of Life. Her articles have been published in many U.S. and Canadian magazines, and journals. She was the host of TVOntario's "Parents and Children".
Hear her talk: