Frederick H. Varley 1881 - 1969
One of Canada's Most Expressive Artists. Member of the Group of Seven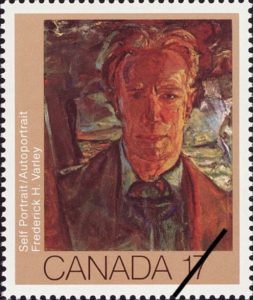 Frederick Horsman Varley was born in Sheffield, England. His father Samuel Varley, a lithographer, introduced him to art and would often drive his young son to the outskirts of the city to sketch. By the age of 11 Frederick was enrolled in the Sheffield School of Art (another painter from the Group of Seven, Arthur Lismer, was also born in Sheffield and attended that same school). Frederick continued his education at the Académie Royale des Beaux Arts in Antwerp, Belgium. He returned to England in 1902 and subsequently moved to London from 1903 to 1908. While living there, he illustrated a diverse number of novels.
In 1910, he married Maud Pinder with whom he had two children. In 1912, they immigrated to Canada eventually increasing their family to four children. Through fellow painter Arthur Lismer, he was hired at the commercial art company Grip Limited. Later he worked for Rous and Mann. This printing company had an art department that employed artists. It was at this time that he would meet Tom Thompson who formed the Group of Seven, a group of Canadian landscape painters.
Frederick returned to England and, in January 1918, began serving in the First World War. During this time, he met Lord Beaverbrook who arranged for him to be commissioned as an official war artist. He went along with the Canadian troops in the Hundred Days offensive from Amiens, France to Mons, Belgium. He was profoundly disturbed by what he witnessed.
In 1920, he returned to Toronto and was offered commissions from the Toronto art establishment. It was also at this time that he became a member of the Group of Seven.
While Varley was excited about his first trip with the other artists to Algonquin Park, landscape painting was not his passion. His interest was in the figure; he was more focused on establishing his career as a portrait artist. He wanted to paint figures in the landscapes.
In 1921, he painted one of his better known works, Stormy Weather, Georgian Bay, while living on Carlton Street in Cabbagetown (1919-1921). In May 2020, Canada Post issued stamps celebrating the centennial of the Group of Seven's first exhibition. One of the stamps features Varley's Stormy Weather, Georgian Bay.
But it was difficult for him to make a living as an artist. In 1925 he became an art instructor at the Ontario College of Art (now OCAD University), and then between 1926-1933 at the Vancouver School of Decorative and Applied Arts where he was the first head of drawing, painting, and composition.
Frederick became friends with artist Jock Macdonald and the internationally recognized photographer John Vanderpant. This friendship deepened his interest in spiritual theories of creativity. In a letter to a friend he wrote that "he saw art as a spiritual vocation." His feeling of inner honesty was reflected in his paintings and his techniques were never the same.
In 1933, Jock Macdonald and Frederick opened a school called the British Columbia School of the Arts. Although the school was an academic success, there was not enough funding to support its operations and the school went bankrupt two years later. Despite the financial difficulties, there were many happy times and artistic growth on the West Coast. However, he left Vancouver deeply depressed, parted from his wife, moved to Ottawa, and divided his time between Ottawa and Montreal. He eventually overcame his depression and returned to Toronto in 1944 where he continued to paint and, at times, teach.
As the most nomadic of the artists, in addition to painting his Canadian landscapes and portraits, he painted scenes of the Arctic and the Soviet Union.
While in British Columbia, the breathtaking scale of the mountains, beaches and wide-open skies inspired him to explore landscape painting. Years later when writing about his deep passion for the West Coast landscape, he wrote, "British Columbia is heaven… it trembles within me and pains me with wonder as, when a child, I was first awakened to the song of the Earth."
In 1936 he wrote, "The artist's job is to unlock fetters and release spirit, to tear to pieces and re-create so forcefully that… the imagination of the onlooker is awakened and completes within himself the work of the art."
Frederick Varley died in 1969. He is buried alongside the other members of the Original Seven at the McMichael Canadian Art Collection grounds in Kleinburg, Ontario.
Books
F. H. Varley: Portraits in The Light by Katerina Atanassova
Frederick H. Varley by Peter Varley
Film
Varley by Allan Wargon – National Film Board
Article
Varley by McKenzie Porter – MacLeans (archives), 1959
In recognition of his life there is a Fred Varley Public School and a Fred Varley Drive in Markham, Ontario
The Varley Art Gallery is in Unionville, Ontario.
The Eckhardt-McKay House is a historic home where Frederick lived the last years of his life. The town of Markham purchased the house and it is now an art centre.
While head curator of the Edmonton Art Gallery, grandson Christopher Varley organized a centennial exhibition that crossed Canada in 1981.