Frederick Hagan 1918 - 2003
One of Canada's Greatest Artists and Teachers
Plaque located at: 262 Ontario Street, Toronto, ON, Canada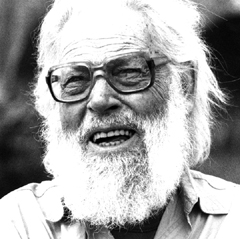 When Frederick Hagan was 13 years old, his father, a cabinet maker, died. His mother was left to raise eight children, so at the age of 16, he dropped out of school to work in a paper-box factory.
From a studio he set up in an empty garage, he used to wander the streets of his Cabbagetown neighbourhood sketching and painting.
While studying at the Ontario College of Art (now Ontario College of Art and Design) his teachers were John Alfsen, who became a mentor and father figure, and Frank Carmichael of the Group of Seven.
In 1946 Mr. Hagan was hired to teach drawing, painting and printmaking at O.C.A. He was living in Newmarket at the time and commuted to Toronto for the next 37 years.
Like most painters, his work was deeply-rooted in his own experiences, and it was never easy to classify. His work never lost its figurative basis. He had a different way of seeing the world.
Mr. Hagan left a great legacy as a teacher at O.C.A. He challenged his students and gave them an immense technical background, along with invitations to great parties at his home.
In 1985 Canada Post commissioned him to create a set of 16 postage stamps on the theme of Canadian explorers.
In 1998, he was awarded the Royal Canadian Academy of Art's medal. Previously, he received the Canadian Centennial Medal.
His works are held by the National Gallery of Canada, the Art Gallery of Ontario and some public buildings in the Town of Newmarket.
Frederick Hagan was one of Canada's greatest artists, a great teacher and a unique personality.
Hear him talk: