George Brown 1818 - 1880
Founder of the Globe and Mail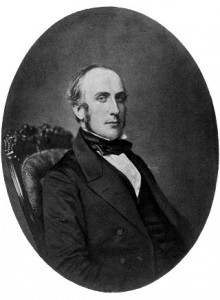 25-year old George Brown arrived in Toronto by way of New York in 1843 and a year later founded a newspaper called The Globe. From the outset he was very interested in politics and was elected to the Legislative Assembly in 1851. He was a proponent of representation by population – "rep by pop" – and the separation of church and state.
Working with Sir John A. Macdonald and George-Etienne Cartier he proposed The Great Coalition. He is considered one of the Fathers of Confederation which joined Upper and Lower Canada with Nova Scotia and New Brunswick in 1867.
In 1880 he was shot by a disgruntled employee of the newspaper. The wound, though slight, became infected and George Brown died as a result seven weeks later.
The employee was hanged at the Don Jail and buried in a now-abandoned graveyard by the jail.
In later years, George Brown's paper, The Globe would merge with The Mail and Empire to become The Globe and Mail.
Section E, Lot 85