Gordon Sinclair 1900 - 1984
A Giant in Canadian Broadcast Journalism
Plaque located at: 327-355 Carlton Street, Toronto, ON M5A 3W3, Canada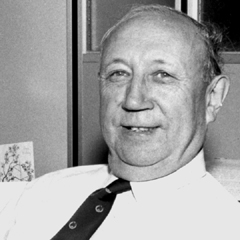 One of the biggest names in Canadian broadcast journalism is Gordon Sinclair. In 1922 he began working as a reporter for the Toronto Daily Star. He had a series of assignments in the late twenties and thirties that sent him around the world four times as a wandering reporter. He traveled 360,000 miles, through all continents, and on all oceans except the Antarctic. From these adventures he wrote the following four books: Footloose In India, Cannibal Quest, Loose Among the Devils and Khyber Caravan.
His career took a turn in 1942 and he began working in radio. He reported on the raid on Dieppe, and he was then asked to write biographical sketches of leaders in that raid. The result was a mid-day personality series – Let's Be Personal, on Canada's radio station CFRB which attracted huge audiences, and which continued until the time of his death.
At this time, Gordon Sinclair was still working for the newspaper. After 21 years as a newspaperman he quit the Toronto Star and opted for a free-lance career in radio.
In 1948, CFRB granted Gordon Sinclair a leave and he took a fifth trip around the world, traveling to Japan, China, Malaya, and on to Europe. He witnessed the takeover of China by the communists.
In 1957 he became a charter member of Front Page Challenge, a weekly panel show on the CBC TV network. It was Canada's longest running television program, which continued until 1995.
"Sinc's" most famous commentary was broadcast in 1973 when anti-American sentiment was at an all-time high. The piece was echoed around the world and is considered one of the most respected tributes from Canada to the people of the United States of America. Its renewed popularity in September 2001 can be attributed to recent terrorist attacks on U.S. soil.
Hear him talk: