Henry Langley 1836 - 1907
Prolific Canadian Architect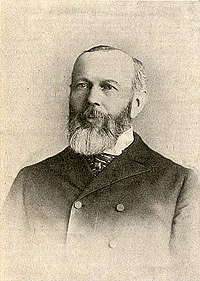 Henry Langley's parents emigrated to Canada from Ireland in 1832. He was born in Toronto, and educated at Toronto Academy, where he primarily studied the principles of drawing.
In 1854, William Hay, who was a specialist in gothic architecture took Henry on as an apprentice. Throughout those seven years they worked together on some of the oldest structures and building in Toronto, including St. Basil's Church, Toronto, two of the original buildings at University of St. Michael's College, Yorkville Town Hall, and the Oaklands at De La Salle College. These are just a few to mention.
When William Hay decided to leave Toronto in 1861, Henry became partners with Thomas Gundry. From 1872 to 1883, he practiced with his brother Edward and his nephew Edmund Burke as Langley, Langley and Burke. From 1892 to 1907 he practiced with his son Charles as Langley and Langley.
Henry Langley has been referred to as the most prolific church architect for all denominations. His background in Gothic Revival Architecture and architectural theory were key to the success of his firm, which designed large-scale churches across the province. He also designed numerous secular buildings-residential, commercial and public buildings.
Mr. Langley was a founding member of the Royal Canadian Academy of Arts in 1880 and instrumental in establishing the Ontario Association of Architects in 1889. He was first chair of the Department of Architecture at the University of Toronto where he taught during the 1880s and 1890s.
Henry Langley died of pneumonia at the age of 70 and is interred in an unmarked grave, just beside his parents in the Toronto Necropolis. He designed the beautiful cemetery's chapel.
Some of the buildings he designed:
the Toronto Necropolis Chapel, gate/porte-cochère, and Superintendent's lodge (200 Winchester Street)
St. Peter's Anglican Church, now Dixon Hall (Carlton and Bleecker streets)
St. Luke's United Church (Sherbourne and Carlton)
The Metropolitan United Church (Queen and Church streets)
the spire of St. Michael's Cathedral
Fort Rouillé Monument (Exhibition Place)
McMaster Hall (now Royal Conservatory of Music on Bloor Street)
His grave is unmarked but just beside (west) his family's monument.
Section O, Lot 255