Jack Layton 1950 - 2011
Canadian Politician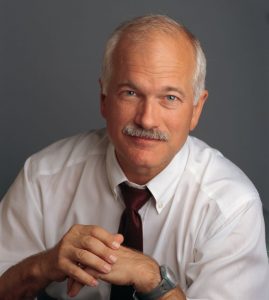 John Gilbert (Jack) Layton was born in Montreal, Quebec, and raised in Hudson, Quebec. His family had been in politics over several generations. While in high school, it was predicted that he too would become a politician. In 1970, he moved to Toronto to pursue his studies and completed his PhD in Political Science at York University.
Jack was elected to Toronto City Council in 1982. He ran for Mayor of Toronto in 1991 but was defeated by June Rowlands. He became the leader of the federal New Democratic Party (NDP) in 2003 and waited for the next general elections to run for a seat in the House of Commons. In the following years, he became a formidable adversary to the other parties in the House of Commons, and this increased interest in the NDP. The spring 2011 elections saw the fortune of his party considerably increase as his party became the Official Opposition. Unfortunately he stepped aside due to illness. He died before being able to sit in the House of Commons as Leader of the Opposition.
The outpouring of grief was unprecedented. As part of her grieving process, Jack Layton's wife, fellow Toronto MP Olivia Chow, sculpted a bust of her husband. She wanted to portray his smiling face and his bright eyes. It sits on top of his funeral monument in the Toronto Necropolis.
Jack Layton was committed to social justice and equality for all. His contributions to public life were tremendous.
Jack's final letter to Canadians:
My friends, love is better than anger
Hope is better than fear
Optimism is better than despair
So let us be loving, hopeful and optimistic
And we'll change the world.
Section H