John Ewart 1788 - 1856
Canadian Architect, Builder, and Businessman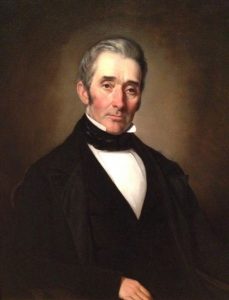 John Ewart was born in Tranent, Scotland. After completing his apprenticeship, he spent some time in London, England, and eventually emigrated to New York City. He arrived in the Town of York (now Toronto) in 1818. Following the War of 1812, many tradesmen came to the city, to be involved in the building projects. Ewart's talents were quickly recognized and he found work almost immediately.
Ewart, alone or in partnership with other architects, designed some of the most important buildings of the early days of Upper Canada. Most have disappeared, often replaced by larger or more "modern" versions. Among them are:
The York General Hospital on King Street (located where today's TIFF Lightbox stands) was completed in 1820 but didn't start operations until 1829 as the building was used as parliament building in the 1820s to replace the second Upper Canada parliament that had burned down. In the mid-1850s, this hospital was replaced by the Toronto General Hospital, located in Cabbagetown, on Gerrard Street, between Sumach and Sackville.
Hazelburn (1822), the mansion built for Samuel Jarvis, near the intersection of today's Jarvis and Shuter streets. Samuel Jarvis Street, one of downtown Toronto's main streets, is named after him.
The Courthouse and Jail (1824) for the Home District (became Upper Canada) on King Street.
York-Toronto's first Roman Catholic church, St. Paul's (1824). Ewart's building was replaced by the current St. Paul's Basilica (1889) at Queen and Power streets.
Upper Canada third parliament building (1832), on Front Street, where today's CBC Headquarters stand.
The Provincial Lunatic Asylum (1850), on Queen Street, where today's CAMH Headquarters stand.
Very few of Ewart's buildings still stand in Toronto. Among them are:
The older section of Osgoode Hall on Queen Street.
The Bank of Upper Canada Building on Adelaide Street.
Ewart was also instrumental in the establishment of some important institutions in the city. He was one of the founding trustees of York General Burying Grounds (the forerunner of Mount Pleasant Group of Cemeteries) which opened a cemetery commonly called Potter's Field in 1826 at the northwest corner of what is now Yonge and Bloor streets in the then small village of Yorkville… Potter's Field eventually closed and was replaced by Cabbagetown's Necropolis cemetery (non-denominational). Ewart was also the first president of the York Mechanics Institute (the forerunner of Toronto's Public Library).
After he retired as an architect, he continued to operate a building yard and was a director on the boards of several institutions.
With his wife Jane, John Ewart had 11 children. Seven of them lived to adulthood. None of them became a builder or a designer. His daughter Jane married Sir Oliver Mowat, a lawyer who went on to become Premier and Lieutenant-Governor of Ontario in the late 19th century.
John Ewart's legacy earned him the title of "Upper Canada's first architect." His civic, educational and religious buildings transformed young "village" of York that became the vibrant City of Toronto.
He died in Toronto in 1856 of gangrene brought on by arteriosclerosis. He was buried on top of the highest hill in Cabbagetown's Necropolis cemetery.
Section M, Lot 98