Joseph Burr Tyrrell 1858 - 1957
Surveyor and Geologist, Explorer of the Canadian North, and Discoverer of Dinosaur Bones in Alberta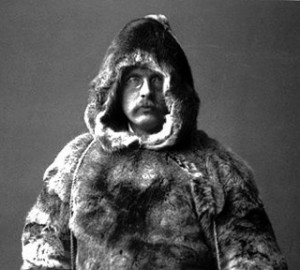 Born in Weston, Ontario in 1858, he was the son of an Irish immigrant who was a successful builder. Tyrrell represented a new breed of explorer; a wilderness traveller who was also a scientist. Surveyor and geologist, he worked for The Geological Survey of Canada for 17 years from 1881- 1898 spending a great deal of time mapping the Northwest Territories.
He is mostly famous for his (accidental) discovery of the first dinosaur bones in the Badlands of Alberta.
He travelled up unmapped rivers to Fort Churchill and Dawson City, looked for and discovered coal deposits in Alberta and British Columbia (needed for the steam engines of locomotives on the trans-Canada railroad that was being built in the 1880s) and participated in the Klondike Gold Rush. He helped to develop many mines in Northern Ontario, including gold mines, and retired a wealthy man.
Later on in life he bought 600 acres of land for an apple orchard that is now the site of the Toronto Zoo. He died at 98 years of age in Toronto in 1957 having lived a full life, by any measure.
Alberta's Royal Tyrrell Museum of Palaeontology is named after him.