Kosso Eloul 1920 - 1995
Canadian Sculptor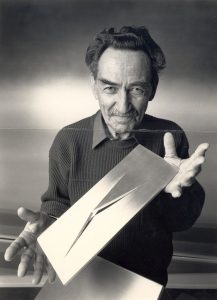 Kosso Eloul was born in Mourom in Russia and, at the age of four, his family relocated to Tel Aviv in Israel. In 1938, he began his art studies with sculptor Yitzhak Danziger. A year later he moved to the United States where he attended the Art Institute of Chicago and the Chicago School of Design. From 1943 to 1948, he served in WWII and the War of Independence in Palestine.
On returning to sculpting, he developed his unique style and created monumental geometric metal sculptures. He was commissioned to do pieces for Israel, Canada and the United States. In 1959, he represented Israel at the 29th Venice Biennale.
In 1962, while in Italy, he met and married Canadian artist Rita Letendre. For a time, they lived in Los Angeles before returning to Toronto in 1969. They lived on Sherbourne Street, just south of Gerrard.
Kosso Eloul passed away in 1995 from heart failure. One of his most important pieces, called Meeting Place, sits at the intersection of Bloor and Church streets in Toronto. He also sculpted the cauldron surrounding the Eternal Flame in the Hall of Remembrance at the Yad Vashem in Jerusalem. This is Israel's largest memorial to the Holocaust. While living in Toronto he erected more than 40 sculptures throughout the city.
Kosso Eloul will be remembered as a great Israeli/Canadian post-war sculptor.
He is buried in the Toronto Necropolis around a small granite monument he sculpted and entitled Onward. The message is simple: you just buried your loved one, now move on…
Section E, Lot 443