Lotfollah (Lotfi) Mansouri 1929 - 2013
Opera Pioneer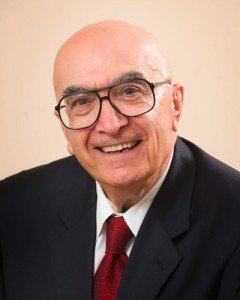 Lotfollah Mansouri, known as 'Lotfi', was born in Tehran and left Iran to study medicine at the University of California in Los Angeles. He then changed his focus and became interested in music. In the 1960s, he lived in Switzerland where he was stage director at the opera houses in Zurich and Geneva.
When asked by Dr. Herman Geiger-Torel, General Director of the struggling Canadian Opera Company (COC), if he would be interested in working in Toronto, he wasn't even sure where Toronto was located. Luckily for Toronto he accepted the offer. Mr. Mansouri spent twelve years as the General Director. He is quoted as saying that the Swiss already had their way of producing opera, but by coming to Canada he could build something new.
Lotfi Mansouri became part of the most dramatic period of growth in the history of the Canadian Opera Company.
In 1976 when he arrived in Toronto he was met with a major deficit and a divided board. Because he felt it was all about the company and not all about himself, he began the job of selling the art form and delegated responsibilities to others in whom he had total confidence.
Energy was put into audience-building and fundraising. Subscriptions rose and opera became high on Toronto's cultural agenda.
It was in January 1983 – during a production of Richard Strauss's Elektra – that Mr. Mansouri introduced surtitles. This was the first system to simultaneously translate into English the libretto on a screen above the stage. He felt that the audience should be able to follow the story as it unfolded. At the time. not everyone applauded the idea, but it has been called the most important success in opera audience-building in our time.
While in Toronto, Mansouri lived at 123 Winchester Street in Cabbagetown.
As the COC grew, it formed its own orchestra and no longer used the Toronto Symphony Orchestra. Mr. Mansouri was also behind the concept of building a dedicated opera house, but unfortunately this dream was not to be fulfilled while he was at the helm. It happened some years later under the leadership of Richard Bradshaw. Mr. Mansouri left the company to go to San Francisco in 1988 and rebuild that company. His wife didn't want to move and both considered their years in Toronto as the happiest of their lives.
For Lotfi Mansouri, opera was never meant to be elitist. It was an art form that should be savoured and appreciated by everyone. His friends have described him as an innovative artist and showman, spirited, energetic, teacher, director, colleague and friend. His personality, sense of humour and endless enthusiasm for his work endeared him to all.
Awards and Honours
Chevalier of France's Ordre des Arts et des Lettres (1992)
San Francisco Opera Medal (2001)
National Endowment for the Arts Opera Honours (2009)
Hear him talk: