Morley Callaghan 1903 - 1990
Writer, Novelist, Broadcaster
Plaque located at: 402 Shuter Street, Toronto, ON, Canada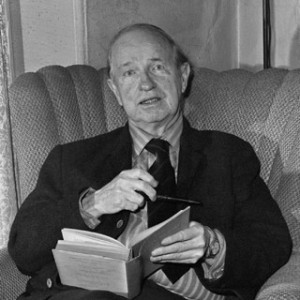 Morley Callaghan was born into an Irish Catholic family, and lived the first five years of his life in Belshaw Place in Cabbagetown. He was educated at the University of Toronto, and attended Osgoode Hall in 1925, but never practiced law.
He worked as a junior reporter at the Toronto Star, where he met Gordon Sinclair and the older Ernest Hemingway, who encouraged him to be a writer. His first novel, Strange Fugitive, was published in 1928. He was thought of as Canada's first "urban novelist".
In the 1950s he focused on broadcasting, and became a public personality. At this time he was doing little writing. American critic, Edmond Wilson identified him as an "unjustly neglected writer", and compared him to Checkov and Turgenev. This pronouncement in 1960 led to many reprints of Callaghan's works in Europe and Asia, where his concern for "the little man" attracted popularity.
One of the finest memoirs in Canadian literature was his book entitled That Summer in Paris (1963), reminiscences of his memorable stay there in 1929. In Paris, he matured as a writer, and developed friendships with some of the most famous authors of the century, including Hemingway and Joyce.
Mr. Callaghan received the 1951 Governor General's Award for his book, The Loved and the Lost. He was the recipient of numerous awards, prizes, honours and the Royal Bank Award. He was also a Companion of the Order of Canada.
Hear him talk: