Oronhyatekha, M.D. 1841 - 1907
Mohawk Physician, Victorian Businessman and Philanthropist
Plaque located at: 211 Carlton St, Toronto, ON, Canada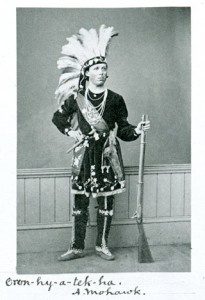 Although the plaque is located at 211 Carlton, Dr. Oronhyatekha actually lived next door (same building) at 209 Carlton.
Dr. Oronhyatekha was a remarkable Canadian who was successful as a Mohawk physician, scholar, and Victorian businessman.
Born on the Six Nations Reserve near Brantford, Ontario, Oronhyatekha (means "Burning Sky") was also known by his baptized name of Peter Martin. He attended colleges in Massachusetts and Ohio, before returning to teach at Tyendinaga on the Bay of Quinte.
In 1860, Oronhyatekha, on behalf of the Six Nations, gave the welcoming address to the Edward, the Prince of Wales (future Edward VII). He so impressed the Royal Party that he was invited to study in England, resulting in his becoming the first North American of indigenous descent to attend Oxford University. Oronhyatekha's portrait still hangs in St. Edmunds Hall at Oxford.
In 1863 he returned to Canada and married a great-granddaughter of Joseph Brant (Thayendanegea), the great Mohawk chief and Loyalist military leader during the American War of Independence. While attending the University of Toronto, Oronhyatekha joined its militia corps, as well as the Queen's Own Rifles; he also joined the Masonic order. In 1866 he graduated from the University of Toronto's medical school, and was likely the first medical doctor of indigenous descent in Canada. He practiced medicine in Frankford, on the Trent River, and in Stratford, Napanee, and London, Ontario.
In 1871 Oronhyatekha was part of the first Canadian rifle team invited to compete at Wimbledon, where he won nine prizes.
He became President of the Grand Indian Council in 1874, an association of reserves in Quebec and Ontario, and often lobbied for change in legislation to give support to the indigenous peoples in Canada.
In 1878 he joined the Independent Order of Foresters (IOF) which was a fraternal life insurance company, and he became the first elected Supreme Chief Ranger of that organization in 1881. He was CEO for twenty-six years. He guided the IOF's growth from a struggling bankrupt fraternal organization of 400 members to a membership of more than 250,000, and a fund of over eleven million dollars. Dr. Oronhyatekha wrote The History of the Independent Order of Foresters.
In 1895 started the construction at Bay and Richmond streets of what was to become one of Toronto's first iconic buildings: the Temple Building (the new IOF headquarters) by architect George W. Gouinlock.  Its opening in 1897 was marked with a parade and a banquet. A life-size sculpture of Oronhyatekha by Walter Seymour Allward was installed in the lobby.  The Temple had been built to last forever but was demolished in 1970 to make way for the Queen-Bay Centre.
Oronhyatekha travelled the world extensively, and when he travelled, he collected artifacts. His collection included Australian boomerangs, Indo-Persian battle-axes, Burmese drums, Japanese shoes, and native artifacts, including a silver belt medal and compass owned by Tecumseh, an ally of General Brock. In his collection, as well, were over a thousand specimens of marine shells and coral. In 1911, a large part of his collection was donated to the Royal Ontario Museum in Toronto.
Oronhyatekha had organized the details of his funeral. His body lay in state at Massey Music Hall in Toronto, and in a four-hour period on March 6th, 1907, over ten thousand people paid their respects. That evening a memorial service was conducted at St. Peter's Anglican Church, which he had attended. His body was later transported in a specially-commissioned train to Tyendinaga Reserve for a family service at Christ Church and interment there.
As one of the greatest builders of the fraternal movement in North America, Dr. Oronhyatekha was widely accepted as a distinguished leader in Canada. His success in Victorian society was founded on the Mohawk values in which he believed, including the principle of reciprocity between people and the institutions they create. While inhabiting two worlds, he remained true to his Mohawk principles, heritage and language.
Hear him talk: