Richard Bradshaw 1944 - 2007
Canadian Opera Company Conductor and Visionary
Plaque located at: 397 Wellesley Street East, Toronto, ON, Canada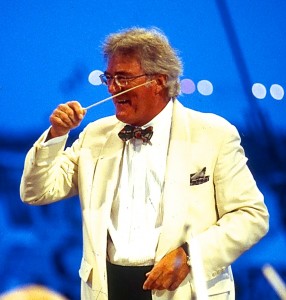 The driving force behind Canada's first purpose-built opera house. On its opening night he received a standing ovation even before he picked up his baton.
Richard Bradshaw was born in Rugby, England. Encouraged by his father, an amateur musician, he began piano lessons at age eight and by twelve he was organist in the local church; he played the flute with the National Youth Orchestra.
In 1965, he graduated from the University of London. His conducting teacher was Sir Adrian Boult, and a scholarship allowed him to work with the Royal Liverpool Philharmonic Orchestra and Sir Charles Groves. From 1975 to 1988, he worked as Chorus Director at the Glyndebourne Festival and then Chorus Director and Resident Conductor at San Francisco Opera before coming to the Canadian Opera Company as Chief Conductor. He was named Artistic Director in 1994 and General Director in 1998, attracting distinguished Canadian artists Robert Lepage and Atom Egoyan as collaborators, and working with authors Margaret Atwood and Robertson Davies to create new operas.
"We are a great and rich country and getting richer, but we have third-world investment in the arts," he said. With determination and resolve, helped by a supportive board and hundreds of others, he embarked on the campaign to build an opera house — he enjoyed describing it as the "Thirty Years' War."
The architect Jack Diamond said, "Without him we wouldn't have had an opera house. He was a visionary but had the energy and capability to get it done. He will be remembered as a builder — not just of the building — but of the company itself." The COC's recordings and tours earned the company widespread recognition and numerous awards.
The Four Seasons Centre for the Performing Arts opened to international acclaim in 2006. To launch its first season, Richard Bradshaw led the COC orchestra and chorus in performing Wagner's epic The Ring of the Nibelung, becoming the first conductor since Wagner himself to open an opera house with a complete Ring Cycle.
The opera house and the more than fifty opera productions he conducted in Toronto are only part of his legacy. To Andrew Porter, his friend and a world renowned music critic, he was "a practical visionary, an inspired champion with a high vision" for opera and the arts.
Awards
Chevalier in the Order of Arts and Letters of France
Governor General's Performing Arts Award
Senior Fellow of Massey College
Honorary Doctorate from the University of Toronto
Honorary Fellow of the Royal Conservatory of Music
Juno and Dora Mavor Moore Awards
Member of the Order of Ontario