Roger Abbott 1946 - 2011
Comedian and Actor, Co-Founder of the Royal Canadian Air Farce
Plaque located at: 132 Amelia Street, Toronto, ON, Canada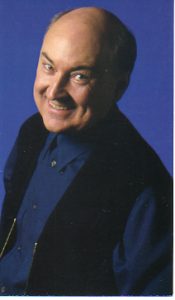 "May The Farce Be With You!"
Roger Abbott was born in Birkenhead, England. In 1953, his family emigrated to Canada and Roger grew up in Montreal. He attended Loyola High School and Loyola College where he met Don Ferguson, co-star and co-founder of the Royal Canadian Air Farce.
While in university, Roger developed an obsession for working in radio. He began his broadcasting career in off-air programming and management in a private radio station. He stumbled into comedy in 1970 when comedians John Morgan and Martin Bronstein convinced him to join the cast of the improvisational theatre revue called The Jest Society, (a pun on then-Prime Minister Pierre Trudeau's goal of making Canada a "Just Society").
The cast rapidly underwent changes and, by January 1971, had firmed up with Abbott, Bronstein, Morgan, Don Ferguson and Luba Goy. Dave Broadfoot joined when the show moved to radio in the fall of 1973 and became known as the Royal Canadian Air Farce.  In 1974, Martin Bronstein left the group and, in the late 1980s, Dave Broadfoot stepped aside as well.
For several years the Air Farce recorded at the Curtain Club in Richmond Hill, then switched to CBC's Parliament Street studio in Toronto; it eventually spent many years taping "on the road" in cities and towns across Canada.
The weekly broadcast, which was always recorded in front of a live audience, ran for 24 seasons on CBC Radio. Don Ferguson called Roger "the guiding light of Royal Canadian Air Farce." His talents were many and he possessed a unique combination of artistic, organizational and business skills. And, of course, he was funny!
In 1993, the Air Farce made the jump to a weekly television series on CBC and became an instant hit. It ran for 16 seasons and was consistently the highest-rated Canadian comedy series.
The troupe also played cross-Canada live tours and recorded several comedy albums.
Some of Roger Abbott's most famous characters, among the dozens of real-life people he portrayed, were: the Queen Mother, Prime Minister Jean Chrétien, Leonard Cohen, U.S. President George W. Bush, CBC news anchor Peter Mansbridge, and whoever happened to be Pope. Among his fictitious characters were TV critic Gilbert Smythe Bite-Me, one half of the Jimmy and Shamus News From Away News Team (with Don Ferguson), First Nations Spokesman "Billy Two Willies" and his beloved sugar-addicted Doughnut Shop regular.
Roger has been described as a game changer in the world of Canadian comedy. He especially made the country laugh during the election campaigns. The Farce members were forerunners of political satire in Canada and they made the country laugh for almost four decades.
From 1992 to present day, Canadians have celebrated the New Year with the annual Air Farce New Year's Special on CBC television, which like both radio and TV series, continues to be performed before a live audience.
Roger's favourite charity was Easter Seals Ontario. He was committed to helping children with physical disabilities and was an ardent supporter for more than 30 years. Both Roger and Don Ferguson were jointly honoured as the 2008 recipients of the distinguished Easter Seals Toronto's Tribute, one that honours excellence for their support of children and youth with physical disabilities. For over 25 years, they hosted the Easter Seals Telethon on CBC television.
Abbott co-wrote with Don Ferguson the book Air Farce: 40 Years of Flying by the Seat of Our Pants and it was published in 2011. It's a memoir full of anecdotes, photographs, scripts, and other memorabilia.
Roger loved life, especially his frequent trips to Italy. And he particularly enjoyed his years living on Amelia Street. He was an avid historian of Toronto and could tell many an anecdote about the creation and development of his beloved Cabbagetown neighbourhood.
His untimely death in 2011 was a shock to all who knew him personally or as a comedian. In honour of his passing and to mark his contribution to the artistic life of the country, the National Arts Centre in Ottawa flew its flag at half-mast.
Shawn Majumder of CBC TV This Hour Has 22 Minutes said that "his impact on Canadian television, radio and comedy in general is so huge, it's so massive and so rooted in Canadian culture, that his life will be celebrated for a very, very long time."
Awards and Honours
Juno Award for best comedy album (1978)
Fifteen ACTRA awards for writing and performing radio and television (mid-1970s to mid 1990s)
Air Farce the first Canadian inductees into the International Humour Hall of Fame (1992)
Gemini Humanitarian Award (1998)
Governor General's Performing Arts Award – Lifetime Artistic Achievement (1998)
Star on Canada's Walk of Fame (2000)
Induction into the Canadian Comedy Hall of Fame (2001)