Dr. Rowena Hume, M.D. 1877 - 1966
A Founder of Women's College Hospital
Plaque located at: 226 Carlton Street, Toronto, ON, Canada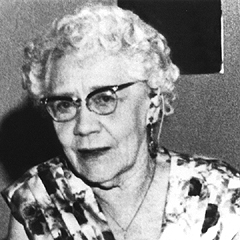 Rowena Grace Douglas Hume was born in Galt, Ontario, the youngest of 12 children. She was a graduate of Galt Collegiate Institute, and University of Trinity College. She took post-graduate studies in England and the United States before returning to Canada to take a position at the Ontario Medical College for Women.
Her career was exceptional, having lectured in Pathology and Bacteriology, she was Assistant in Anatomy, Ontario Medical College for Women, from 1902 – 1906. In 1911 she became a founder of Women's College Hospital (she was its first president when it opened in 1911), and its first Chief of Obstetrics and Gynaecology, a position she held for twenty years.
A pioneer of planned parenthood programs, she formed the Birth Control Clinic, the first in Canada, in Hamilton, Ontario. It opened March 3, 1932, and Doctor Rowena Hume was the first doctor in attendance.
She was also actively involved in Alcoholics Anonymous, the Salvation Army's Harbour Light Centre, and the Fred Victor Mission. After retiring, she ran a private practice in Toronto.
On October 2, 1966, Dr. Hume was found dead in her house on Carlton Street. She had been murdered.
Deputy police chief Jim Noble's (1924-2003) obituary gives us interesting insights in the arrest in Dr. Hume's case (Noble was the officer who arrested the murderer):
"in one of many infamous cases that he handled, Noble solved the murder of an 89-year-old female doctor, Rowena Hume, who was viciously beaten to death by a Salvation Army derelict whom she had hired to do a few odd jobs. Two days after the murder, having followed a series of clues, Noble nabbed the suspect on a downtown street; the man blurted out a confession almost instantly."
But beyond the sad story of her death, Dr. Hume's memory conjures up the image of a great Cabbagetowner: a caring person, a humanist, and a pioneer.
Hear her talk: