Reverend Samuel Rose, D.D. 1806 - 1890
One of the Pioneers of Methodism in Ontario
Plaque located at: 27 Rose Avenue, Toronto, ON, Canada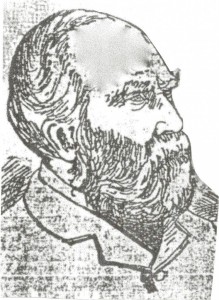 Samuel Rose, one of the Pioneers of Methodism, was born September 13, 1806 at Marysburg, near Picton, Ontario. In 1831, he began his ministry and was stationed as a missionary to the Indians in the town of what is now known as Orillia. He never lost his love for the Native Indian, and devoted six years of his life to the superintendency of the Muncey Mission. When ordained, he was pastor of churches in St. Catherines, London, Brantford, Dundas and Toronto. He was Chairman of the district from 1856 to 1864.
In 1865 he was elected Book Steward of the Methodist Church, and held the office for fourteen years. He had a good sense of business and served on many financial committees. His presence was also a constant inspiration to several local charities.
He was known as a man of noble and generous impulses, a man who left behind him a record of pure character and devotion to God.
During his career Dr. Rose held many responsible positions within the Methodist Church.
In 1878 the degree of D.D. was conferred upon him by the Central Tennesse College of Nashville, Tennesse.
Dr. Rose was one of the original trustees of the Metropolitan Church in Toronto, and at one time he was Treasurer of Victoria College in Toronto.