Sarah Anne Curzon 1833 - 1898
A Pioneer for Women's Rights Who Made Laura Secord a Household Name
Plaque located at: 274 Carlton Street, Toronto, ON, Canada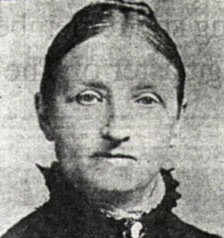 Sarah Anne Curzon lived at 274 Carlton Street between 1873 and 1875. She was a playwright, poet, journalist, and a pioneer in educating readers of her newspaper and magazine columns in which she wrote about female suffrage, property rights equal to men and access to higher education for women.
Canadian history was the main source of her writing. Furthermore, she wanted to prove that women could write professionally in a field that at the time in Canada was dominated by men.
Although she moved easily among fiction, poetry and history, she felt that the moral lessons of Canadian history could be taught in novels and poetry.
While living in Cabbagetown, she wrote the play, The Sweet Girl Graduate, which mocked the idea that women were not intelligent enough to study at the university level.
Sarah supported Dr. Emily Stowe's efforts to found the Women's Medical College on Sumach Street, which opened in 1883. The two women also founded the Toronto Women's Literacy Club, which focused on advancing women's rights, as well as literacy.
In 1895, she and feminist Mary Agnes Fitzgibbon co-founded the Women's Canadian Historical Society in Toronto.
She was most impressed with Laura Secord and one of her major works was, Laura Secord, the Heroine of 1812: A Drama and other Poems. (1887)
Sarah Anne Curzon is buried in Mount Pleasant Cemetery.
Hear her talk: