Ernest Thompson Seton 1860 - 1946
Writer, Self-trained Biologist, Scientific Illustrator and Naturalist
Plaque located at: 6 Aberdeen Avenue, Toronto, ON, Canada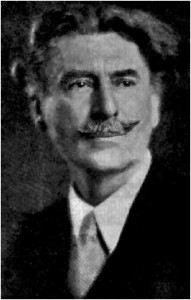 Ernest Thompson Seton is one of the most important 19th-Century Toronto novelists.
As a boy, Seton spent a lot of time in the Don River Valley, near his Cabbagetown home. There, he learned to connect with nature and to draw plants and animals.
Seton began his career as a scientific illustrator and was a self-trained biologist.
From the 1890s until his death he wrote about 60 books, and nearly 400 magazine articles and short stories. His book Wild Animals I Have Known, first published in 1898, has never been out of print. His dramatic wilderness stories brought him praise from such notable contemporaries as Andrew Carnegie, Rudyard Kipling, Theodore Roosevelt, Leo Tolstoy and Mark Twain.
It is said that he had an almost mystical reverence for wolves and 'Indians' (the word used at the time). He thought that wolves were the most clever and noble of creatures and eventually called himself 'Black Wolf.' Indians to him were the finest people because of their understanding of, and respect for, nature.
As one of the founders of the Boy Scouts and the Girl Guides of America, he inspired children to imitate the Indians' ways.
The message that Ernest Thompson Seton delivered for 60 years was that nature is a great gift and should be valued and protected. One of the more thought-provoking phenomena of the 20th century is the remarkable extent to which we have become a nation of nature lovers.
In his time, Ernest Thompson Seton did more than his share to help this cause along.
The E.T. Seton Park near the Ontario Science Centre is named in his honour. A plaque was also installed in Lindsay where his family settle after emigrating from England.
Hear him talk: