William Lyon Mackenzie 1785 - 1861
First Mayor of Toronto and Leader of the Upper Canada Rebellion of 1837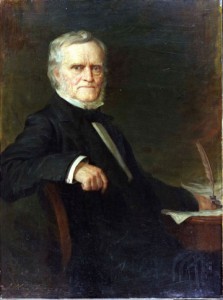 Born in 1785 in Scotland, Mackenzie came to Canada in 1820. He worked briefly as a labourer on the Lachine Canal and wrote for the Montreal Herald before moving to Toronto.
Two years later, in the summer of 1822, his mother arrived from Scotland with the woman who was to become Mackenzie's wife, Isabel Baxter, who would bear him 13 children. Following a failed attempt to become a merchant in Queenstown, he began publishing his most famous newspaper, the Colonial Advocate. He campaigned relentlessly against the Family Compact, the English elite who first settled Toronto and wielded great social and political power.
He returned to York in 1824 and was elected the first mayor of the new Toronto in 1834. He was elected to the Legislative Assembly and due to his hot Scottish temper was ejected frequently.
After the fifth time of being thrown out he decided, in 1837, to organize an armed rebellion, known as the Upper Canada Rebellion, against the Family Compact. Mainly farmers and people from villages joined to fight. They practiced and had a few minor confrontations until the final "battle at Yonge and Carlton" which turned out to be a fiasco. He escaped to the United States where he lived until being pardoned in 1840.
Upon his return to Canada he again published a newspaper and again was elected to the Legislative Assembly where he stayed until 1858. He was given a house (on Bond Street just below Dundas Street) by friends and supporters, when he retired from public life, and in recognition of his many years of serving the community. He died there three years later in 1861.